In today's world, women are entrepreneurs. It makes sense that when it comes to home design, including that of a bathroom, they have a different perspective than men.
The bathroom is an important room in every home. It can be your oasis, where you go to get away from the world and do what you need to do without interruption. Here are tips to help you on your journey in finding all the essentials a 20-something lady would want for her dream bathroom. 
A Large Walk-In Shower With A Bathtub
A large walk-in shower can be used as a place to bathe, relax and meditate while enjoying the water's gentle sounds. It also provides much more space than a traditional bathtub, allowing you to stand up and move around in comfort.
A Deep, Soaking Tub To Relax In After A Long Day At Work
A hot soak is one of life's simple pleasures. Women often put their needs last on their list of priorities which leaves them tired and stressed out by the end of the day. The warmth of the water loosens up tight muscles, which can lead to increased flexibility and less pain over time. It also provides an opportunity for some much-needed "me" time, whether it's reading a book or simply enjoying the peace of your thoughts.
Soft Lighting Throughout Your Bathroom To Make It Feel More Relaxing And Spa-Like
The perfect lighting in the bathroom will help get rid of that midday "ugh" feeling when it's too bright or too dark to see anything correctly. Make sure there are great lamps around so no matter where someone is standing, they have enough light from various angles. You could also install some overhead lights, but be mindful about making them dimmer than typical fixtures on other brightly lit parts of the house.
A Toilet With An In-Built Bidet
This is a great luxury for people who are tired of toilet paper and want the cleanliness factor, but it's also quite expensive. If you're looking to save some money on your remodel budget, this might not be the best option for you.
A Shower With A Glass Door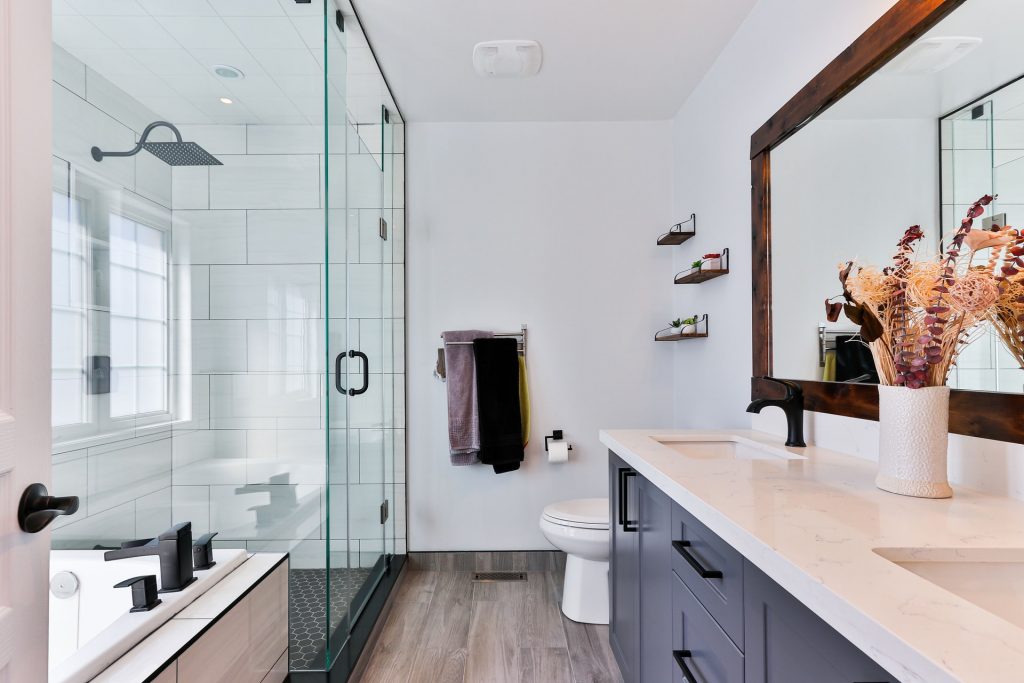 The shower is one of the essential elements in a bathroom. A good shower will provide you with an escape from the day and help you relax before bed. It can also be a place to meditate or where you have your morning ritual. If you're redesigning your bathroom, it's worth considering what type of doors would work best for your needs. A clear glass shower enclosure, such as the ones you see at a bathroom store in Windsor or even in your nearby store, is an excellent choice for those who want the elegant appearance of a frameless or semi-frameless system without the cost. The doors are not only aesthetically pleasing, but they also provide more security for you while bathing. You can be assured that no one will walk in on you. You can have all the candles, bath bombs, and bubble baths you could ever want!
Bathroom scents can make the experience of a good, long soak in the tub that much better. If you're looking for something to calm your nerves or want to relax and unwind, there are plenty of options out there. Candles provide an elegant way to light up any room as well as set a relaxing tone for your day-to-day activities in the bathroom. Keep them around the tub or on top of countertops. Some items include an oversize bath mat, homemade shower "scrubbies" in a jar with soap or sugar as a natural "exfoliant", and towels made out of chenille fabric!